To all our partners, sponsors, members and stakeholders, we extend warm greetings. We want to say thank you for walking with us the journey of empowering women in various areas of the Extractives value chain.
We hope that our association and partnerships get stronger this year; may we synergize and prosper together and create a working environment for the growth and development of women in the Extractives sector.
#WeAreAWEIK is looking forward to working together with you to ensure that we achieve Gender equality today for a sustainable tomorrow.
#WeAreAWEIK
Hannah Wang'ombe – CEO AWEIK
Reflecting on 2021 #WeAreAWEIK Activities- Supporting Women Artisanal Scale Miners
(Part of AWEIK 2021 activities aimed at supporting women artisanal miners in Kenya)
With support from different partners, AWEIK was able to deliver on its key signature programs aimed at supporting women artisanal miners in Kenya. The signature programs include training in:
Value addition

Financial Literacy

Environmental Health and Safety

Sexual Gender- Based Violence
The purpose of the programs is to address challenges around market access by enhancing market opportunities for women (grassroots, SMEs and professionals) in Extractives towards economically raising their status, to enhance linkages and partnerships with industry for women entrepreneurs and professionals and to strengthen their active participation in the Extractive sector.
The programs additionally, worked to empower women miners to work safely, to mine better, improve financial security, and create stable, equitable markets for fair trade. It is in this endeavor that AWEIK has been able to train (over 150) women in Sexual Gender Base violence and assisted in the development of guidelines to protect women miners at mine sites and in their communities.
AWEIK is proud to have partnered with various community organizations in the year 2021 to provide access to adequate capacity building to women miners as a means of tapping into alternative income streams and to train and mentor on business development services such as access to finance and market to youth, women and persons with disabilities.
Special thank you to our partners
World Bank through the Extractives Global Programmatic Support (EGPS)

Open Society Initiative for Eastern Africa

Pact International

Base Titanium Ltd

Kipya Africa Ltd

Taita Taveta County Government
What to expect from AWEIK in 2022
AWEIK FOR YOU IN 2022
In line with its vision and mission, AWEIK is in the fast lane to ensuring that there are more women taking up spaces in the Extractives sector in Africa. Look out for:
1. Gems Africa Trade and Exhibition Fair 2022
Following the success of Gems Africa 2021 Virtual Conference, the Kenya Gem and Jewellery Fair; an AWEIK program, will be hosting this year's Gems Africa Trade and Exhibition 2022. The trade fair will be to showcase Africa's natural resources.
Dates and location to be announced in due course.
2. Tsavorite Week
Access to markets has proven to be a challenge for artisanal and small scale miners all around Kenya.
As the main global source of Tsavorite, Taita Taveta County in Kenya is uniquely positioned to establish a signature gemstone market with significant development potential through support to ASM.
Tsavorite Week will be a Mini Gem Expo. The aim of the mini expo will be to provide artisanal and small-scale miners with the exposure to expectations and standards that international markets require. It will be multi – faceted to include trainings on efficient production, value addition and marketing aspects.
Dates and location to be announced in due course.
3. High – Level Fireside chats and webinars
The need for new approaches to driving economic growth is pertinent with action towards a reimangination of Africa's Extractives industry in regional trade, technology advances, innovation and partnership post COVID 19. This will require in-depth analysis and conversations that can accelerate change suitable for sustaining the sector.
Watch out for the dates, thematic areas and panel sessions.
4. AWEIK Mentorship Programme (AMP)
The association, together with the mentees has put together several programs under AMP as means of involving its 1st cohort of the mentorship program. The programs are geared towards assisting the mentees realize their full potential, get involved directly in the sector and an opportunity to interact with key industry players. Activities include:
AMP youth connect: Connecting with AWEIK student members in various universities

Training in Financial Literacy, Extractives sector value chain, Entrepreneurship, business planning and investing: Planning for Financial Security

Field Trips- Get an actual feel of what the sector is all about, the operations and workings of different value chains within the sector

Set up legal clinics

Submission of Articles, Journals, videos and any other publications for AWEIK website
Watch out for invitations.
5. Moyo Gems Training and Market Days
Moyo Gems Program is supporting key training activities on Gemstone Value Chain and Mining Health and Safety in Kenya and Tanzania.
There is an already pre-selected pilot class of artisanal and small scale (ASM) gemstone miners that will be trained in Taita Taveta County which will lead to the first Moyo Gems Market day in Kenya. The market day is an opportunity for Artisanal Small scale miners to showcase and sell their gemstones in an open market.
The program is set to include a GIA Training for the Artisanal Miners in areas of Environmental Health and Safety and Gemstone value addition
The collaborators in Kenya include: Pact Kenya, Pact Tanzania, the County Government of Taita Taveta, and the Association of Women in Extractive Industries in Kenya (AWEIK).
AWEIK Women in Extractives Series
AWEIK recently introduced the Women in Extractives series aimed at sharing the career stories of various women within the Mining, Oil and Gas value chains. This series is aimed at highlighting and promoting the participation of women in the extractives sector as well as encouraging other women who wish to participate at different levels of the value chain.
The series highlights these women's career journeys, the challenges they have faced, the opportunities that exist within the sector and the role of AWEIK in supporting women realize these opportunities in the extractives and energy spaces.
This year, we are sharing the journey of Reshma Shah- Oil and Gas expert.
Read her story here
Pioneer Women in Extractives Awards- Africa Chapter 2022
Pioneer Women in Extractives Awards 2022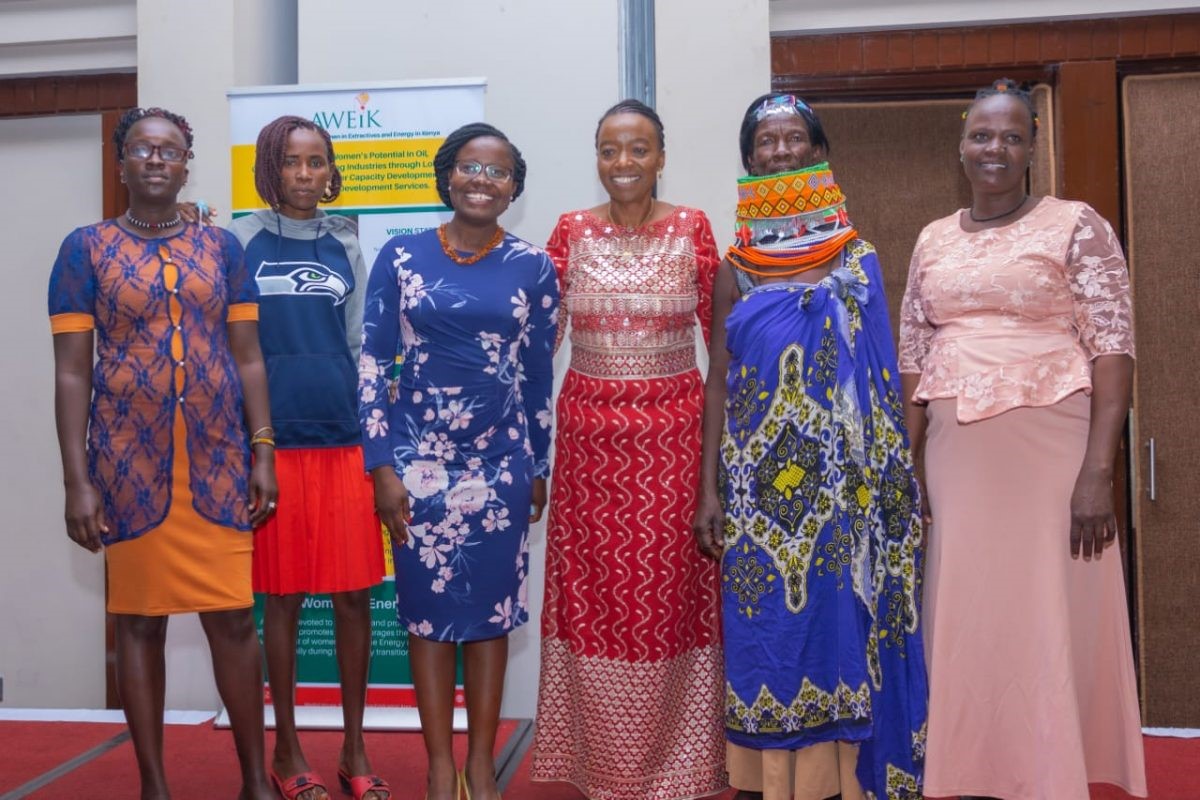 The Association of Women in Energy and Extractives in Kenya (AWEIK) in collaboration with Tenistore Enterprise hosted this year's inaugural Pioneer Women in Extractives Awards- Africa Chapter- 2022.
PWEA is a Pan African platform created to showcase and appreciate the remarkable female talent in Africa's extractives industry; Mining, Energy and Oil and Gas. The awards were set to celebrate and provide a platform for peer to peer learning for women in Extractives in Africa. The awards ceremony featured key industry players supporting the participation of women in different aspects of the Extractives sector value chain. Amb. (Dr.) Monica Juma, OXON, CBS, Cabinet secretary, Ministry of Energy, presided over the awards ceremony.
She emphasized on the need to develop better models of harnessing women's talents in the extractives industry, continuous mentorship of young women to take up more spaces in the Extractives sector and in the energy movement. She applauded the efforts to involve Artisanal small scale miners and recognize their efforts in growing their mining communities.
PWEA 2022 nominees were drawn from over 9 countries from Africa (Kenya leading with most nominees) and with awardees receiving recognition for their work in:
Africa Extractives Corporate Award- Elizabeth Rogo, Tsavo Oilfields Kenya

Africa Extractives Mentor Award- Dr. Melba Wasunna, Base Titanium Ltd Kenya

Africa Extractives Innovation Award- Audrey Mulama, KECBO Kenya

Africa Extractives Entrepreneur of the year award- Miriam Kamau, Mimo Gems Kenya

Africa Extractives Inclusion and Human Rights Defender Award- Sophia Takuva, AWOME Trust Zimbabwe

Africa Most notable contributions to the Oil and Gas Sector Award- Elsie Mbugua, Leadwood Energy, Kenya

Africa most notable contribution to the Artisanal Small scale mining sector Award- Salma Kundi, TAWOMA Tanzania
Special thank you to our partners and sponsors that made the event successful:
Ministry of Petroleum and Mining

Mayflower Foundation

Ministry of Energy Kenya

Extractives Baraza

Base Titanium

Mineral Rights Board

Oxfam

Zimbaqua

Geothermal Development of Kenya

Society of Petroleum Engineers
The Awards theme was 'ASANTE: An Appreciation for Africa's Pioneer Women within the Extractives Industry'.
28th Jan 2022
Nairobi, Kenya
See Gallery here
BE PART OF AWEIK
Become a member of the Association of Women in Energy and Extractives in Kenya (AWEIK). AWEIK provides women with opportunities for equitable professional and economic development within Kenya's extractives industry.
We awaken women's potential in oil, gas and mining industries through lobbying, branding, member capacity development and business development services.
Membership is open to individuals, companies, firms or other organisations engaged in extractives activities (large scale, small and medium scale and/or artisanal), business activities, professional services, academia or education in the extractives industries and/or extractives value chains (goods and services) and who are either women, or who are actively involved in the sponsorship and/or promotion of women in the extractives sector.
Join us. Fill form here

Madini SACCO
Madini Sacco offers a savings platform for the Artisanal Small Scale Miners countrywide. The main aim of Madini Sacco is to provide an opportunity for each of its members to improve their respective economic and social conditions through promotion of financial access through loans to small and medium-scale miners and dealers who cannot access credit facilities from commercial banks. To become a member, write to us, [email protected]